Melissa Young, Marketing Director for EMG Live Fitness, explains:
Wish you could make it to your kickboxing class on time? Longing for a piloxing studio in your town? With EMG Live Fitness you can experience group fitness by kickboxing, stepping, & flexing from your laptop. We spend so much time sitting in front of computers and checking tweets on smart phones, a healthier option is to use these devices to exercise more. EMG Live Fitness is on a mission to make the world healthier with convenient fitness classes available anywhere. Clients in suburban cities don't always have quick access to Pilates Studios or celebrity trainers. Busy moms find it hard to make it to the gym and if you are out of shape it can be uncomfortable to exercise in front of other people. Whether you want to catch a group class from home while the kids play or lose weight to gain confidence, you can exercise on your own terms in the privacy of your own home.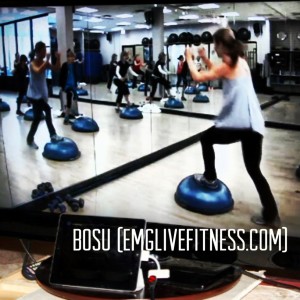 EMG Live Fitness streams live and on-demand fitness classes from studios and gyms in New York, Los Angeles, and Amsterdam at an affordable price that fits your schedule. Spinning, Piloxing, and specialty workouts are taught by certified instructors. Our instructors come from premier gyms and studios and many have trained celebrities. They have time to answer your workout questions through the chat feature on the EMG Live Fitness site. Have questions after an on-demand fitness session? Email or facebook instructors with your questions. The key advice we give is to not feel pressured to complete the first class! It is difficult for anyone to finish the entire class the first time so please go easy on yourself. After a few classes you will be prepared to finish a class. Experience group fitness classes from different studios and you will never get bored!
EMG Live Fitness is a great alternative to DVDs since new fitness classes are added weekly. Many people don't realize that DVDs require billions of gallons of oil to manufacture and most DVDs end up in landfills. When Fitness DVDs break or become too repetitive to watch consumers throw them in the trash. There is no need to purchase fitness DVDs when you can have new fitness classes available online.
If the environmental benefits and convenience of EMG Live Fitness isn't motivating you to try it, keep in mind that you are helping another person have access to fitness. When you purchase an online class, EMG Live Fitness gives a class to a shelter or health organization to help those in need find wellness and live healthier. To learn more please watch: Workout This WAY.
Due to Copyright laws - we can't post a logo - but Fast Company named us one of the top 10 most innovative companies in fitness. Called us the Netflix of the
e-workout movement.

Read the article here. http://www.fastcompany.com/most-innovative-companies/2013/industry/fitness
Scroll down to # 4 sandwiched between SoulCycle and Zumba - we couldn't be more proud.
When the Couch Tempts, Look to Online Fitness Classes on Your Computer
January 23, 2012, 04:38PM
Some days, the victory isn't counting how many miles you ran, but celebrating that you actually got out the door to do your workout. Don't feel bad — for those days when the couch and TV are much more attractive than a crowded gym, leaving the house is quite an accomplishment.
Knowing that motivation to exercise — or get to the gym — is difficult to maintain, a growing number of companies are now streaming their group fitness classes and workouts online, CNN reported.
Companies like Flirty Girl Fitness LIVE, Yogis Anonymous, DailyBurn, Connect Online Fitness, EMG Live Fitness, and YogaGlo are just some that offer these services. They require that you purchase monthly subscriptions, weekly passes or per class to gain access to their services.
This service may not seem different from following a workout on YouTube or using a workout DVD, but Flirty Girl Fitness founder, Kristen Knee, told CNN that streaming a class online "is always live, always fresh, and you feel like you're there."
Joyce Wells, founder of EMG Live Fitness, said she started her business after realizing how much revenue was in online paid content like Netflix. She had an added incentive to start the business after moving and being disappointed by the local group fitness classes.
These online services definitely help those who may not feel comfortable going to the gym. If you're worried about missing exercise equipment the gym may provide, the 4-piece ACE FitKit can get you started.
Fortunately (or unfortunately, depending on how you see it), these online classes make it a lot harder to give in to the tempting calls of your couch and TV.
Would you add these classes into your workout routine?
By the American Council on Exercise
No Time for the Gym? Sneak in a Workout at Home
It's hard to find an hour to hit the elliptical any time of year, much less over the holidays. Save your precious moments, and try one of these trendy boutique workouts wherever you — and your devices — may be.
By

Ava Feuer
EMG Live Fitness
You might love spinning, have trouble imagining life without yoga, and know the importance of lifting weights, but who can afford to pay for all of those specialized classes? Save your precious dough with EMG, which live streams group fitness classes like Piloxing and Sweet Step from New York, Los Angeles, Amsterdam and more to your home every day. The site also hosts discussion boards and chats for participants to share their experiences, suggestions, and questions.
First class free, $5 per class, $40 for 10 classes, $39.99 per month for unlimited classes, EMG Live Fitness.
______________________________________________________________________________________________________________________________
-------------------------------------------------------------------------------------------------------------------------------------
A very well respected news agency cnn.com posted this article about us online. Copyright laws prohibit us from posting what it said, but it is good.